Casting methods - an unfinished journey of human's technology
Casting methods were conceived and developed according to human evolution and especially through the industrial revolutions. Today, there are two types of casting that we know about: traditional sand-clay casting and special casting. Both methods have special achievements and are constantly being developed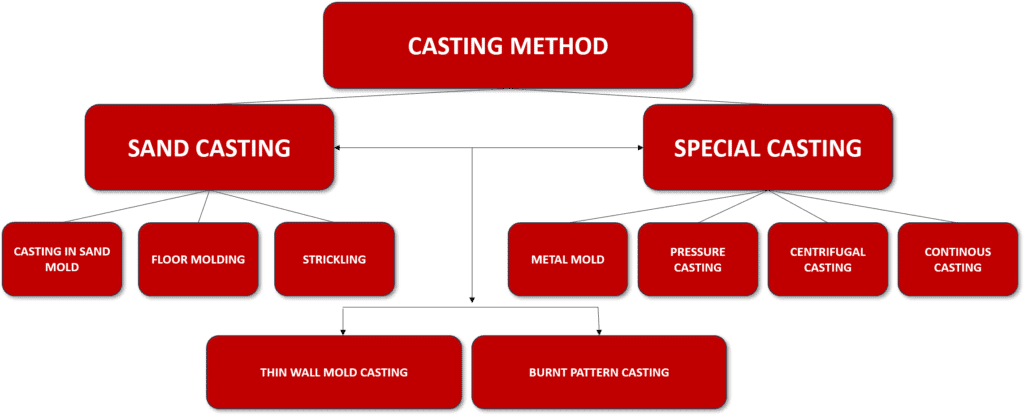 The special casting method is different from ordinary casting; special casting has differences in material and molding technology, mold filling and shaping methods; Special castings often use metal molds. Special casting usually takes the forms: die casting, casting in metal molds, under pressure casting, centrifugal casting, investment casting, casting in thin wall molds, gravity casting, continuous casting and some other special casting technologies.
Notable remarks about sand casting and special casting
Special casting is the casting method that has different characteristics from conventional clay sand casting. Special features may be material special, particularly technological, especially in the way of pouring and solidifying process other than gravity. Special casting is divided into two types of special technologies:
+ Especially in terms of materials and mold-making technology: flow molds, burning molds, ceramic shell molds, molds made according to methods A, D, N, C, CO2, and molds V (vacuum)
+ Special ways to shape casting: that is high-pressure casting, low-pressure casting, pressure resistance casting, centrifugal casting, vacuum casting, semi-liquid casting, and continuous casting.
+ A dedicated content to summarize Sand casting vs Die Casting
Today, we have seen details that only special casting can deal with: hydro power plant turbine blades, large ship propellers, and large plates for the fuselage … Special casting used achievements of other industries as the basis for further development: diffusion phenomenon in composite casting
We Guarantee Successful Outsourcing
Best delivery performance, competitive pricing, better commercial terms, stable supplier base, control lead time
Effective and seamless workflow
With millions of parts delivered annually and serving more than 30 international customers, we are practicing the most advanced workflow to ensure the satisfaction of our customers and suppliers
Free consultation
Book an online meeting within 24 hours