Potential for outsourcing to Vietnam
In recent years, Vietnam is expected or considered by some as the 2nd Factory of the world, or the next Manufacturing Hub of the world after China; there are many driving factors behind this:
The labor cost in Vietnam is still highly attractive to many investors, the so-called "golden population" structure is perfect for the development of manufacturing industries.
More than 70% of the over 90-million population are of working age, with an almost balance male and female ratio and a healthy birth rate.
(source: https://www.gso.gov.vn/lao-dong/)
Particularly, since the 1990s, many manufacturing giants have selected Vietnam as the destination for their factories. The existence of such international manufacturers, as well as the improvement in vocational schools across the country, give Vietnam the most promising technical workforce (engineers and technicians) compared to other neighboring developing countries – a fact agreed by many industry experts and researchers.
The Vietnam government is one of the most active ones in the negotiation and implementation of the Free Trade Agreement (FTA). There are 16 FTA in total being implemented at different stages.
(source: https://accessvietnam.vn/2018/08/vietnam-involved-in-16-free-trade-agreements/)
2015 is a landmark year when Vietnam signed four FTAs ​​with the EU, South Korea, EEC, and TPP. By the end of 2016, Vietnam has signed, implemented, and is negotiating a total of 16 FTAs; This is a very impressive number for a developing Asian nation. Out of these 16 FTAs, 10 FTAs ​​were implemented (six of which were implemented as ASEAN members, the other four FTAs ​​with Chile, Japan, Korea, and EEC); Two FTAs ​​have concluded negotiations: TPP and the Free Trade Agreement between Vietnam and the EU (EVFTA); Four FTAs ​​being negotiated are the Comprehensive Economic Partnership Agreement (RCEP), the ASEAN-Hong Kong FTA, the FTA with Israel and the EFTA. Up to 2017, many foreign investors have plans to invest in Vietnam with a total registered FDI of $ 307.86 billion with 23,737 projects. 59 percent of the projects are in the field of processing and manufacturing.
Great efforts have been put into attracting foreign direct investment (FDI) as more and more modern industrial zones (with attractive tax incentive packages) were built. The government is also continuously improving the country's administrative and logistic infrastructure.
Above all, the US-China trade war has shaken up the global supply chain. Vietnam, as a result, is now considered the most promising alternative. By right this should be the opportunity for Vietnamese manufacturers to bloom and capture the world market… but is that really what's happening?
The most developed manufacturing industries in Vietnam include apparel, Shoes, Wood & Joineries. These are all old industries, which are highly labor-intensive, with less added value, and have been in Vietnam since the 1990s.
Electronic and household appliances are another booming industry. However, most of the major players are Multinational companies (MNCs), while the percentage of localization and added value for local manufacturers are low. For example, a company like Canon has been in Vietnam since 2012, but until now only has 20 local suppliers (who mostly do plastic parts and packaging) out of their total of 175. Most of the important components are either imported or made by their other suppliers – including the Japanese, Taiwan, and China FDI manufacturers in Vietnam. Why is this the case?
The obstruction in developing supporting industry/manufacturing industry in Vietnam has been there for a long time. Those are very broad, complex, high entry barrier industries with no shortcuts in development. Materials and industry experts are not available locally. The procedure and requirement to approve a new supplier often have to be very stringent – normally it takes 6-9months to complete from auditing, quotation, first article submission, to the first Purchase order. For the automotive industry, this process can take 2-3 years.
Not every Vietnamese manufacturer is ready to capture the opportunities that arose in this global supply chain disruption.
Manufacturing hubs of the world can't be formed overnight
It will be unrealistic to think that, one needs only to fly to Viet Nam, visit some factories and orders can be placed. As mentioned above, the global supply chain disruption is supposed to be the opportunity for the Viet Nam local factories to shine. But in reality, it is more obvious than ever that Viet Nam (and maybe also the other neighboring developing countries) is not ready to take place as the second factory in the world. 
– Said Mr. Chris Mooney, Director of Chinaoutsourcing.com – a UK company specializing in metal parts outsourcing, which has been operating in China since 2002. China has a population 10 times bigger than that of Viet Nam, and its manufacturing industries have had 15-20 years ahead of Viet Nam. Almost everything you need for your production is available.
Moreover, the greatest advantages that Viet Nam possesses at the moment are merely temporary. The sudden change in the global supply chain and the increasing establishment of FDI factories have led to an early shortage of technical workforce. Worker salary (not the minimum wages) has been increasing faster than what happened in China. The FTAs are a double-edged sword – besides the immediate advantage in export, it also creates great challenges for the local factories to compete on their home ground.
There will be no immediate solution to move your supply chain to Viet Nam. After all, the manufacturing hub of the world can't be formed overnight.
The myth of manufacturing costs in Viet Nam
Besides the easy-to-recognize macroeconomic factors, there are many other reasons to explain why manufacturing costs in Viet Nam (and also other developing countries) are not as cheap as China's.
Most American/European companies, when they first come to Viet Nam, find this difficult to understand. After all, the average labor cost in Viet Nam is half that in China; but, the quotations they get from Viet Nam manufacturers are often 1.5 – 2 times higher than China's equivalent. This, in turn, caught them off-guard.
Most recently, an American company send us an inquiry about a Hydraulic Torque Wrench – Said Mr. Daniel Pham, Director of VNoutsourcing.com (VNO), the Vietnam local office of Chinaoutsourcing.com. In Viet Nam, no company specializes in this product, which means we will need to find factories with suitable machines, and facilities and set up a new production line for it. The initial combined quotation is almost twice as expensive as that of China. It will take some time for VNO to set up and optimize to meet the targeted pricing of such customers.
It was also the wave of supply chain shifts driven by the US-China trade war that caused the supply and demand imbalance in Vietnam. Many Vietnamese manufacturers mistakenly believe that this opportunity will last forever and do not feel interested in providing good quality products at a lower cost than what they normally do. They do not think that for manufacturing industries with high technical barriers and complex management processes, being able to take part in the international customer's supply chain, in the long run, will bring much greater benefits compared to the short-term benefit of a couple of high-price orders.
Another subjective reason for the surprisingly high price of Viet Nam support industry manufacturers is the mindset of doing business based on relationships. This is rather difficult to get scientific statistics to illustrate this statement, but most are based on taking away from face-to-face meetings – Said Mr. Daniel Pham, Director of VNoutsourcing.com: "In my database, there are about 2000 manufacturers in Viet Nam, which I visited about 300 of them. Manufacturers that are originated as a state-owned enterprise (SOE) usually have their "traditional" orders. This makes the commercial orders not vital to their business. They don't have enough pressure to provide the best quality product at competitive pricing. The studying of technical drawings, generating quotation, making sample, don't get enough attention and focus as they should."
It sounds hard to believe, but this kind of mindset is also common in many private enterprises that have traditional orders with large FDIs. Such manufacturers often have good existing business results and strong production capacity. Over many years of optimizing the production process for their traditional product, with timely information from the advantage of a "good relationship", the profit on each of their orders is much more attractive than the new inquiries that they need to compete with China. They are not overly keen on the new opportunities from the current wave of supply chain shifts. From a business point of view, for manufacturers that are successful and have a stable source of orders, doing so is not necessarily wrong. It is entirely up to them to decide where they will allocate their resources and time. However, many smaller private factories, when trying to develop their businesses, often try to mimic the bigger and more successful companies using the same mindset. Although the market for the FDIs in the country is very large and is a great playground for domestic factories to develop their capabilities; however, if they think it is the only available market, such companies will not be ready to take advantage of the opportunities brought by this wave of supply chain shifts.
On the other hand, it does not mean that just by changing the sales mindset, Viet Nam factories can immediately provide more competitive product pricing than China. Chinese businesses have much more accurate pricing experience than most Vietnamese manufacturing enterprises. The main formula for manufacturing pricing in Vietnam is: (direct cost) + (indirect cost) + (expected profit) = Price.
While the direct variable costs on finished products such as materials, labor, and machine hours … can be estimated quite accurately and easily (although it can be further optimized). It is difficult to dissect indirect costs (factories, energy, indirect labor, sales costs, customer care, defect rate, shipping, etc.) and accurately distributed individual products. Many Vietnamese businesses determine whether their pricing is correct based on the quarter/annual profit and loss balance sheet (P&L).
And to be safe, they calculated with a large safety margin. The market-driven pricing method – based on competitors' prices and prices that customers are willing to pay is less often applied. Therefore, many Viet Nam local manufacturing companies are not able to assess their competitiveness in the global supply chain.
How do overcome the differences?
So how could Viet Nam Manufacturers overcome these stumbling blocks and get ready for more opportunities given by the global supply chain shift? We think the fastest way is to open up and learn from Western customers. Difficult technical requirements and quality control of customers are the problems, which if solved will improve the competitiveness of domestic factories greatly – said Mr. Chris Mooney. Besides, as previously mentioned, there are many similarities between Viet Nam and China – Vietnamese factories can learn from their neighbor about the most efficient way to organize production, and gradually apply automation and advanced management method to optimize their production. Particularly, they can learn about the competitiveness of China's price quotes to better position themselves in the global supply chains.
The actual job of moving production to Viet Nam is hard and time-consuming, said Mr. Daniel Pham. We VNO are fortunate to collaborate with factory owners who have a clear awareness, willing and ambitious to take advantage of this transition wave. For example, we are working on a first article submission of several precision machined copper products with a factory in Dong Anh province. Right from the beginning, the factory director bought all necessary materials and measuring equipment according to the product requirement. Together we found some materials and tools that are not available in Vietnam, so VNO transferred such items from our China office to the factory to speed up the sample-making process.
Our chief engineers and experts from China also came to the site, collaborating with the factory to help develop the process. Yet, it still took us 7 months to develop and undergo 3 sample submissions to get the samples approved.
For this product line alone, we are ordering about $3 million annually from China. We are targeting to move $500k worth of product to Viet Nam in the first year. Our first and foremost priority is to ensure all technical and quality requirements are met and maintained. 
The chicken-or-egg issue is always a stalemate: Good production capacity (correct price, correct quality, correct delivery) ⇒ Many orders (bigger market) ⇒ Opportunity to learn, optimize production, more available market, better personnel … ⇒ Better capacity ⇒ More orders … (and repeat)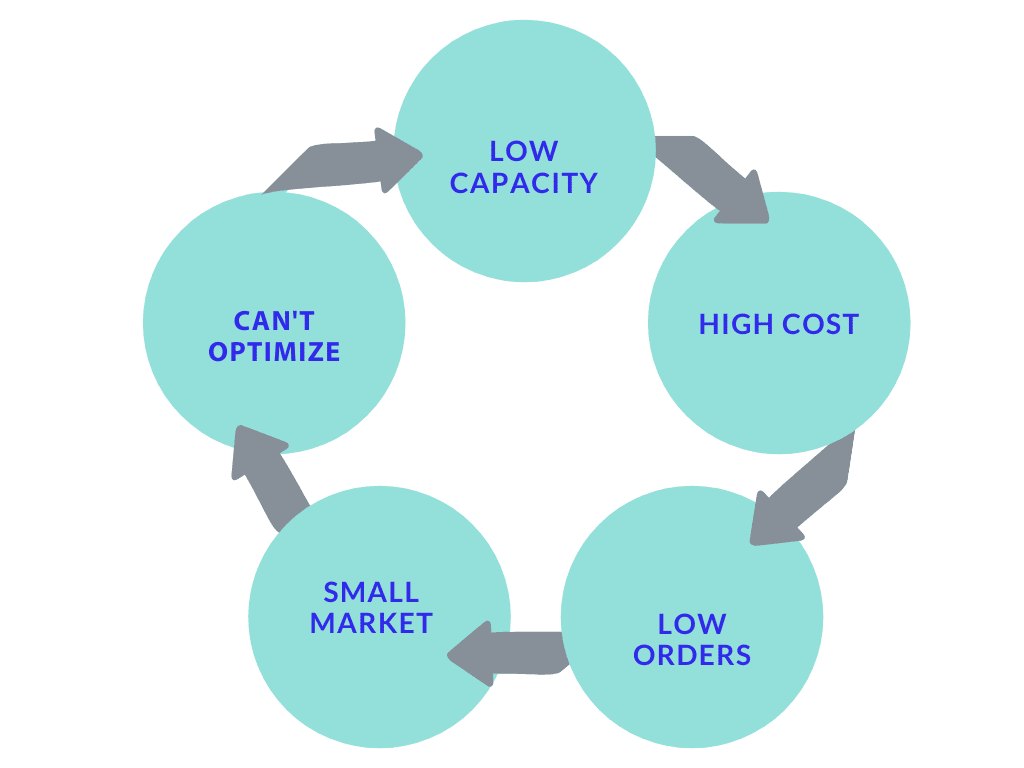 So good production capacity and a big market, which one needs to come first? In the case of today's manufacturing supply chain, it is a rare opportunity for Viet Nam manufacturing companies.
"The interest of the western customers in Vietnam is real and enormous. Vietnamese manufacturing companies need to take initiative, constantly improve their production capacity, and try to position themselves in the global supply chain. By doing so, the individual contribution of each factory will increase the general competitiveness and technical level of Viet Nam manufacturing industry. VNO is willing to work alongside the local manufacturers to grow and improve and get ourselves ready to seize international opportunities. This is part of our company's mission." – said Mr. Daniel Pham.
For the Western companies, they can easily find that new factories and trading companies in Viet Nam sprouting up like mushrooms. However, not all of them have the adequate experience, expertise, and knowledge to set up production professionally to ensure quality and delivery.
Outstanding capabilities of Vietnam Outsourcing
We Guarantee Successful Outsourcing
Best delivery performance, competitive pricing, better commercial terms, stable supplier base, control lead time
Effective and seamless workflow
With millions of parts delivered annually and serving more than 30 international customers, we are practicing the most advanced workflow to ensure the satisfaction of our customers and suppliers
Free consultation
Book an online meeting within 24 hours