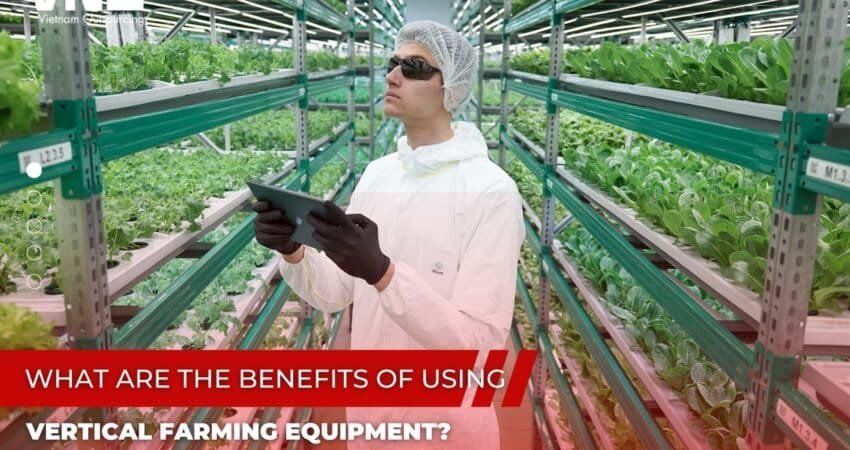 Vertical farming equipment is revolutionizing the way we cultivate crops by harnessing the power of technology and innovation. Unlike traditional agricultural practices that rely on vast expanses of land, vertical farming utilizes vertical space to grow plants in stacked layers, often indoors or in controlled environments. This method optimizes space utilization and offers a range of benefits that are reshaping the future of agriculture.
Definition of Vertical Farming Equipment
Vertical farming equipment refers to a wide array of specialized tools, devices, and systems designed to facilitate cultivation practices within vertical farming setups. These include but are not limited to LED lighting systems, hydroponic or aeroponic systems, automated planting and harvesting robots, climate control mechanisms, and data-driven monitoring technologies.
Growing Popularity and Importance of Vertical Farming
In recent years, vertical farming has gained significant attention and momentum worldwide due to its numerous advantages over traditional farming methods. The escalating global population and urbanization have led to shrinking agricultural lands. As a result, there is a growing need for alternative solutions to maximize food production while minimizing resource usage.
Vertical farming offers a viable solution for producing crops in areas with limited available land by efficiently utilizing vertical space within buildings or specially constructed structures. This practice enables farmers to overcome the constraints imposed by conventional agriculture's reliance on horizontal land expansion.
The ability to grow crops in urban areas or regions with harsh climatic conditions further enhances its appeal. Moreover, vertical farming reduces transportation distances between farms and consumers since these setups can be established close to urban centers.
This proximity reduces carbon emissions associated with transporting produce and ensures fresher products reach consumers' plates. The importance of vertical farming extends beyond addressing immediate food production challenges and contributes significantly to sustainable agriculture practices.
By optimizing resource utilization (such as water) through precise control mechanisms like recirculation systems, vertical farming minimizes wastage and helps conserve precious resources. It also reduces the need for pesticide and fertilizer applications, making it an environmentally friendly choice.
Vertical farming equipment plays a pivotal role in enabling this innovative agricultural approach. Its definition encompasses various tools and technologies working together to produce efficient crops in limited spaces.
The growing popularity of vertical farming is driven by its ability to overcome land constraints, produce crops year-round, optimize resource utilization, and contribute to a more sustainable future. With these benefits in mind, we must continue exploring and embracing the potential of vertical farming equipment to meet the challenges of feeding our ever-expanding global population.
Overall Benefits of Vertical Farming Equipment
Maximizing Space Utilization
Vertical farming equipment revolutionizes the way we think about space utilization. By harnessing the power of verticality, these systems allow growers to make the most of limited land resources. Traditionally, farming has relied on horizontal expansion, but with vertical farming equipment, cultivation can extend upwards, utilizing every available inch.
This means that even in overcrowded urban areas or regions with limited arable land, vertical farming opens up new possibilities for agriculture. Furthermore, farmers can drastically increase crop yield per square foot by stacking layers of crops vertically in specially designed structures or using advanced hydroponic systems like towers or racks.
Instead of relying on vast expanses of land for traditional farming methods, vertical farms can produce a greater quantity and variety of crops within a smaller area. This not only maximizes the use of available space but also holds enormous potential for meeting the increasing demand for food as global populations grow.
Year-Round Crop Production
One glaring limitation of traditional farming is its dependence on seasonal changes and weather conditions. However, growers can overcome these limitations with vertical farming equipment and achieve year-round crop production. Vertical farms can simulate ideal growth conditions regardless of external factors by creating controlled indoor environments where temperature, humidity, and lighting conditions are precisely regulated.
This means that whether it's blistering hot summer or freezing winter outside, crops within a vertical farm remain unaffected by such climatic variations. Growers no longer need to anxiously await certain seasons or worry about unpredictable weather patterns affecting their harvests.
Instead, they have uninterrupted access to fresh produce throughout the year. Additionally, this consistent production allows farmers to establish reliable supply chains and meet consumer demands consistently without disruptions caused by seasonality or adverse climate events like droughts or storms.
Efficient Resource Utilization
Vertical farming equipment maximizes space, ensures year-round crop production, and promotes efficient resource utilization. For instance, recirculation systems can optimize water usage within vertical farms. As water is scarce, especially in arid regions, this technology conserves water by reusing it through closed-loop systems.
This reduces waste and minimizes the overall water requirements for cultivation. Furthermore, vertical farming methods are designed to reduce reliance on potentially harmful pesticides and fertilizers.
Growing growers can significantly decrease their dependence on chemical inputs by creating controlled environments that limit pest infestations and diseases. Additionally, precise irrigation techniques ensure that water and nutrients are delivered directly to plant roots, minimizing runoff and avoiding excessive use of fertilizers.
Vertical farming equipment provides a sustainable solution to traditional agricultural challenges by optimizing resource utilization while promoting eco-friendly practices. It offers a glimpse into a future where food production can operate efficiently within limited spaces without compromising productivity or environmental well-being.
Specific Benefits of Using Vertical Farming Equipment
Energy Efficiency and Sustainability: Cultivating with LED Lights
When it comes to sustainable cultivation, vertical farming equipment shines bright. One of the key benefits lies in its ability to utilize energy-efficient LED lights for plant growth.
Unlike traditional farming methods that rely on natural sunlight, vertical farms employ artificial lighting systems strategically positioned to provide adequate plant illumination throughout their growth cycles. These LED lights mimic the spectrum of natural sunlight and consume significantly less energy, reducing electricity costs and environmental impact.
By harnessing the power of LED lights, vertical farming equipment ensures plants receive precisely the wavelengths they need for optimum photosynthesis – this precision results in accelerated plant growth rates and better year-round crop production.
Moreover, these energy-saving lights generate less heat than traditional lighting sources like incandescent bulbs or high-intensity discharge (HID) lamps, reducing the need for cooling systems within cultivation spaces. Through intelligent design and advanced technology integration, vertical farming maximizes energy efficiency while contributing to a sustainable future in agriculture.
Water Conservation and Management: Efficient Irrigation Techniques
Water scarcity is a pressing global concern that necessitates innovative solutions in agriculture. Thankfully, vertical farming equipment rises to the challenge by implementing water conservation strategies through hydroponic or aeroponic systems. Hydroponics involves growing plants without soil and instead suspending their roots in nutrient-rich water solutions, while aeroponics cultivates plants by misting their roots with nutrient-dense aerosols.
These systems enable precise control over water delivery and nutrient uptake, minimizing waste commonly associated with traditional irrigation methods like flood or overhead sprinklers. Vertical farms utilize recirculation systems that collect excess water runoff from plant trays or rooting structures for reuse in subsequent cycles, reducing water consumption significantly compared to conventional farming practices.
Additionally, precise irrigation techniques employed in vertical farming ensure plants receive the perfect amount of water, eliminating overwatering and reducing the risk of diseases caused by moisture-related issues. Vertical farming equipment paves the way to sustainable agriculture while conserving our planet's most precious resource by optimizing water usage and implementing innovative irrigation management.
Improved Crop Quality and Control: Creating Ideal Environments
In vertical farms, optimal growing conditions are paramount, leading to improved crop quality and better control over external factors that can compromise plant health. By cultivating crops indoors within controlled environments, these systems provide consistent regulation of temperature, humidity, air circulation, and light intensity.
This level of control ensures plants thrive in stable conditions without being subjected to unpredictable weather fluctuations or extreme climates. Moreover, vertical farming equipment safeguards crops against pests, diseases, and external contaminants that often plague traditional farming.
The enclosed environment is a physical barrier against unwanted intruders while reducing the need for pesticide applications. Additionally, by being indoors with controlled airflow systems that filter out pollutants and airborne pathogens, vertical farms create a pristine environment where plants can flourish free from harmful external influences.
With precise environmental control mechanisms in place and enhanced protection against threats, both visible and invisible, vertical farming equipment guarantees superior crop quality with higher nutritional value and consistent taste. This revolutionary approach to cultivation sets a new standard for how we grow food sustainably while meeting the demands of a rapidly expanding global population.
Challenges and Solutions in Vertical Farming Equipment
Technological Advancements in Automation: A Leap Towards Efficiency
As vertical farming continues to gain momentum, integrating automation and robotics has become a game-changer. Robotic systems now play a crucial role in vertical farming, from planting seeds to harvesting crops. Automated planters ensure accurate and consistent seed placement, reducing human error and optimizing germination rates.
Harvesting robots can efficiently pick ripe fruits or vegetables without damaging the plants themselves. Furthermore, monitoring the growth and health of crops is made easier through sensors and AI-based technology.
These systems can detect changes in temperature, humidity levels, nutrient content, and even plant diseases or pests. By collecting data from numerous sources within the farm environment, decisions can be made based on actual insights rather than guesswork.
Cost Considerations and Scalability: Making Vertical Farming Accessible
Regarding cost considerations for vertical farming equipment, efficiency is paramount. Small-scale operations can explore cost-effective solutions such as vertical shelving units with LED grow lights or hydroponic systems that use nutrient-rich water solutions instead of soil.
These setups require less space and use fewer resources like water and fertilizers than traditional farming methods. Modular systems are invaluable to accommodate expansion as businesses scale up their operations.
They allow for easy integration of additional units or sections into existing setups without significant disruptions or costly renovations. The modular design also enables customization according to specific crop requirements.
Regulatory Considerations and Public Acceptance: Ensuring Safety Standards
A key challenge for vertical farming is addressing regulatory considerations related to food safety in controlled environments. As the industry evolves, it is crucial to establish guidelines that meet stringent safety standards while recognizing the unique aspects of indoor cultivation. Implementing strict protocols that monitor and control food production processes in vertical farms is essential.
This includes efficient waste management, proper cleaning and disinfection procedures, and adequate traceability systems to ensure the integrity of the food supply chain. Furthermore, public acceptance plays a vital role in the success of vertical farming.
Educating consumers about the benefits of this innovative approach to agriculture is crucial in dispelling any skepticism or misconceptions. Public perception can shift towards embracing this sustainable solution by demonstrating how vertical farming can provide fresh, pesticide-free produce with reduced environmental impact.
Conclusion
Vertical farming equipment presents a promising future for agriculture by revolutionizing how we grow crops. Through technological advancements in automation, such as robotic integration and data-driven decision-making, efficiency is maximized while reducing costs.
Scalability is made possible through modular systems that offer flexibility for expansion. Despite challenges regarding regulatory considerations and public acceptance, it is encouraging to witness the progress being made in establishing industry standards and educating consumers about the safety and benefits of vertical farming.
As this innovative practice continues to evolve and gain acceptance worldwide, it holds tremendous potential for addressing food security concerns while minimizing environmental impact. With each step forward in advancing vertical farming equipment, we move closer to a sustainable future where fresh produce can be grown virtually anywhere, benefiting communities worldwide.