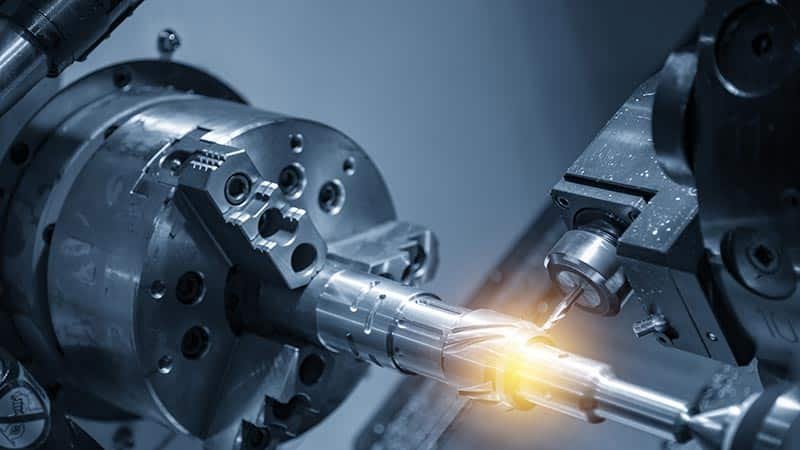 Brief introduction of metal lathe tooling
Metal lathe tooling or CNC lathe machining is a type of mechanical machining operation controlled by a computer. Since its appearance in the market, CNC lathes have quickly been interested in and become one of the tools contributing to changing the type of industrial production. CNC lathes have the greatest advantage that is the ability to process a lot of products with high safety. The way of operating the lathe is also very simple, the ability to automate the work is high and makes no noise.
Advantages of CNC lathe machining
Flexible change according to machining requirements
CNC lathes can quickly change the machining from part to part with minimal time, with no need to spend a lot of rebuilding.
It does not depend on the skill of the operator
When using a CNC lathe, the operator is only in the role of starting, programming, monitoring, and handling in the event of a malfunction. The final product quality is determined by the performance of the machine.
High performance
Because the operations are largely based on pre-programmed software, the working efficiency of CNC lathes is higher than that of traditional machining methods, with great precision without relying on the workmanship of the craftsman. .
Minimize labor costs
Labor costs will be reduced further as skilled workers no longer need to be required. In addition to labor costs, the use of CNC lathes also helps to save operating costs thanks to high labor productivity, minimizing the amount of waste discharged into the environment causing waste.
Reuse of machining program
This saves programming time, optimizes product quality, and minimizes errors.
Optimal cutting ability
Cutting speed and ability help to increase tool life, save jigs, cutting tools and many other parts and components.
Stable, long-term operation
Due to the operation of the machine, there is almost no rest time, reducing downtime, so the machine can use more hours, making the most of the machine's capacity.
Save time on setting up and inspecting after machining
The final products are of almost absolute quality, according to the original requirements, so it does not take time to edit and finalize.
Increasing competitiveness for businesses
Reducing manpower costs and production costs help businesses reduce product costs, bring quality products at competitive prices, attract more customers, improve business reputation.
Outsource metal lathe tooling to Vietnam ?
Vietnam is an emerging country in the mechanical manufacturing and processing industry. Located next to China, suppliers and factories in Vietnam often suffer from deep competition in this industry. However, with certain advantages in low-cost, youthful and inquisitive labor combined with continuously improved technology, the Vietnamese mechanical engineering industry in general and metal lathe tooling in particular are gaining a lot of attention from the international customers. Moreover, VNO suppliers will be fully supported by our local technicians, sample products will be thoroughly checked by our experts in UK and China before sending to the customers.
We Guarantee Successful Outsourcing
Best delivery performance, competitive pricing, better commercial terms, stable supplier base, control lead time
Effective and seamless workflow
With millions of parts delivered annually and serving more than 30 international customers, we are practicing the most advanced workflow to ensure the satisfaction of our customers and suppliers
Free consultation
Book an online meeting within 24 hours