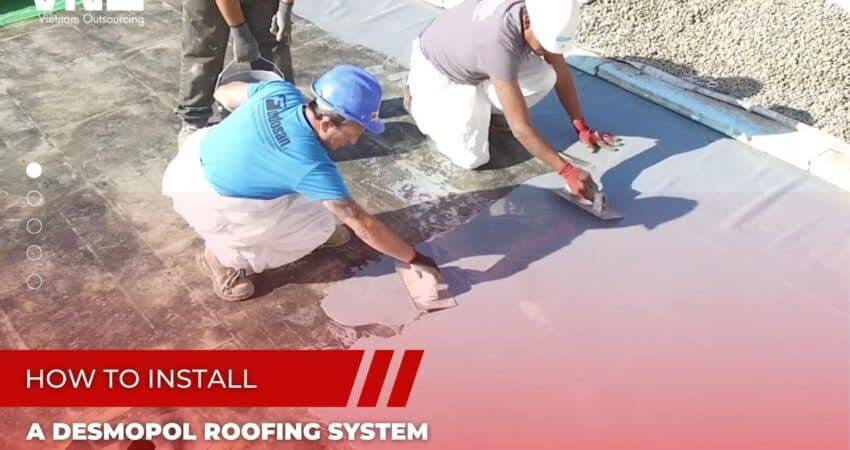 A reliable roofing system is essential for the weatherproofing of any structure. The Desmopol Roofing System stands out among innovative roofing solutions for its exceptional performance and durability. Desmopol is a liquid-applied polyurethane membrane that provides a seamless, flexible, and impermeable barrier for sloped and flat roofs. This comprehensive guide will lead you through installing a Desmopol Roofing System, outlining the essential steps and best practices for a successful installation. Read on to learn how to accomplish a durable and high-quality roof with Desmopol, whether you're an experienced roofing professional or a DIY enthusiast.
Pre-Installation Preparation
Safety Measures
Before beginning the installation procedure, safety must come first. Ensure all team members have the proper personal protective equipment (PPE), including gloves, safety eyewear, and slip-resistant footwear. Additionally, safety protocols must be established, and local safety regulations must be followed throughout the installation.
Surface Inspection
Inspect the roof surface thoroughly to identify any cracks, holes, or damage. Address and repair any existing issues before proceeding with the Desmopol installation. The roof surface should be clean, dry, and free from debris, dust, and grease for proper adhesion.
Gather the Necessary Tools and Materials
Ensure you have all the necessary instruments and materials for the installation. This typically includes the liquid-applied Desmopol membrane, a roller or spray applicator, compounding equipment, reinforcement fleece, primer, and other accessories the manufacturer recommends.
Priming the roof surface is essential for promoting adhesion and ensuring the Desmopol Roofing System's efficacy. Utilize a primer recommended by the manufacturer and apply it uniformly to the entire roof surface. Allow the primer to cure according to the manufacturer's instructions.
Installation of Protection Fleece
Over the primed surface, apply a layer of reinforcement fleece to increase the system's strength and durability. Ensure there are no wrinkles or gaps in the thread by rolling it out without wrinkling. The thread must cover all roof features, including parapet walls and upstands.
Mixing and Application of Desmopol Membrane
Blending
Appropriately mixing the liquid-applied Desmopol membrane is essential for its consistent and efficient application. Follow the manufacturer's instructions for the product in question. Most Desmopol products require mechanical mixing to attain a uniform mixture of their constituents. Utilize a powered mixer with the necessary attachments for the task.
Pay close attention to the recommended mixing time and speed during the mixing procedure. Undermixing can result in an uneven application and compromise the membrane's integrity, while overmixing can introduce air bubbles and affect the finish. The ambient temperature and humidity can affect the combining process and drying time, so keep them in mind
Implementation
After the Desmopol membrane has been thoroughly combined, it is time to apply it. You can use a roller or spray applicator, depending on the product type and manufacturer's instructions. When adequately executed, both methods can provide a seamless and uniform application.
Start at the roof's lowest point and work your way up when using a roller. Roll the membrane in straight, even lines, slightly overlapping each pass to ensure complete coverage and avoid gaps. To accomplish the desired performance characteristics, maintain a constant thickness throughout the application process.
Follow the manufacturer's instructions for spray pattern and nozzle size when using a spray applicator to ensure an even and precise application. Maintain the recommended distance between the sprayer and the surface to accomplish the desired thickness without over-spraying.
Unbroken Application
The seamless implementation of the Desmopol Roofing System is one of its primary advantages. Take special care to maintain a seamless finish during installation, especially in areas where multiple sections of the membrane meet or around roof features such as ducts and skylights.
The membrane's seams or overlaps can generate potential weak spots where water can infiltrate over time. Ensure appropriate alignment and transitions between sections to create a seamless application. Utilize a squeegee or roller to press down any bubbles or lifted margins that may appear during application.
Time for Curing and Drying
Allow sufficient time for the Desmopol membrane to cure and dry before subjecting it to foot traffic or exposing it to rain or moisture. The drying time may vary depending on environmental conditions such as temperature and humidity.
Perform a contact test in a discrete area to determine when the membrane has cured completely. If the surface feels dry and tack-free, it is probably prepared for the subsequent stages. However, for a more precise evaluation, adhere to the manufacturer's recommended curing and drying periods.
Quality Assurance and Auditing
After the Desmopol Roofing System has dried and cured, perform a comprehensive quality control inspection. Examine the entirety of the roof's surface for any ignored spots, bubbles, or flaws. Resolve any issues as soon as possible to achieve a flawless finish and guarantee the system's long-term viability.
Verify that the sutures and edges are securely bonded and seamless. Verify that the reinforcement fleece is completely encapsulated within the membrane to provide the desired level of strength and durability.
Additional Roof Specifics
Depending on the design and complexity of the roof, it may be necessary to implement additional roofing details to ensure proper water management and protection around roof penetrations. Install edge trims for a clean, finished appearance, flashings to prevent water infiltration at vulnerable locations, and roof drains for adequate water drainage.
Installation of a Desmopol Roofing System necessitates meticulous planning, attention to detail, and compliance with safety protocols. You can create the groundwork for a successful installation by prioritizing safety measures, conducting a thorough surface inspection, and utilizing the proper equipment and materials.
The system's strength and durability will be improved by properly priming the roof surface and applying a reinforcement fleece layer. Mastering the mixing and application of the Desmopol membrane is essential for producing a seamless and waterproof finish.
By allowing sufficient curing and drying time and conducting a comprehensive quality control inspection, you can ensure that your Desmopol Roofing System will provide years of exceptional performance and protection. Remember to address any additional roofing details necessary to complete the installation and produce a dependable and durable roofing solution. A Desmopol Roofing System can provide superior protection and peace of mind for residential and commercial buildings with proper installation and maintenance.
Desmopol Roofing System installation is a dependable and efficient method for protecting flat and sloped roofs with a seamless and impermeable membrane. You can accomplish a high-quality and durable roofing solution by following the steps outlined in the preceding section. Remember to prioritize safety, prepare the roof surface meticulously, and adhere to the manufacturer's instructions and recommendations for the best results. With a properly installed Desmopol Roofing System, you can rest assured that your roof is protected from the elements and that the interior of your building will remain safe and dry for decades.