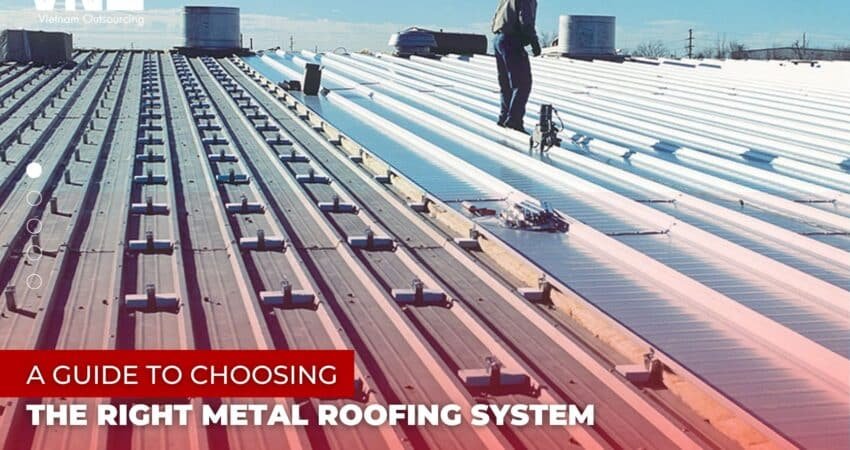 Metal roofing systems have risen in popularity due to their exceptional resilience, energy efficiency, and aesthetic appeal. When considering a metal roof for your home, selecting the metal roofing system that best meets your requirements and preferences is essential. With many options available, including standing seam, metal shingles, and corrugated panels, locating the ideal roofing material can be challenging. In this exhaustive guide, we will discuss the factors to consider when choosing a metal roofing system, the various types of metal roofs, and the advantages of metal roofs. By understanding the main factors involved in selecting a metal roofing system, you can make an informed decision that will provide a durable and dependable roofing solution for your home.
Assess Your Property's Needs
Before choosing a metal roofing system, evaluate your property's needs and requirements. Consider the following factors:
Climatic and Meteorological Conditions
The local climate determines the metal roofing system most suits your home. A metal roof with superior weather resistance and drainage is essential in regions with significant precipitation or snowfall. Choose a metal roofing system with excellent wind uplift ratings for areas prone to intense winds or hurricanes.
Building Type and Construction
Your choice of a metal roofing system may be affected by the architectural design and structure of your building. Different metal roofs complement a range of architectural styles, from modern and contemporary to pastoral and classic. Consider the slope and complexity of your roof when selecting a metal roofing profile, as specific profiles are better adapted for particular roof configurations.
Energy Efficiency Objectives
Consider metal roofing systems with cool roof technology if energy efficiency is a priority. These roofs have reflective coatings that reduce heat absorption, keeping your property cooler in warm weather and reducing ventilation costs.
Metal roofing systems are renowned for their durability. Considering the durability of the available metal roofing materials depends on your long-term plans for the property. Copper and zinc, for example, have lengthier lifespans than other metals.
Explore Different Types of Metal Roofing Systems
There are several types of metal roofing systems to choose from, each offering unique characteristics and benefits:
Standing seam metal roofing is a popular option for residential and commercial buildings. Vertical metal panels that interlock at the openings create a sleek, contemporary appearance. The concealed fasteners on standing seam roofs increase durability and prevent water infiltration.
Metal shingles are designed to resemble conventional roofing materials like timber shakes, slate, and asphalt shingles. They combine the classic appeal of these materials with the advantages of metal roofing, such as durability and fire resistance.
The irregular, corrugated panels of corrugated metal roofing provide exceptional water resistance. This roofing system is typically utilized in agricultural and industrial settings but can also lend a rustic and distinctive touch to residential properties.
Metal tiles combine the strength of metal with the look of clay or concrete tiles. They are lightweight and available in various styles and hues, making them suitable for modern and traditional architectural styles.
The appearance of traditional architectural shingles is combined with the benefits of standing seam roofing in standing seam shingles. With their concealed fasteners and interlocking seams, these shingles provide a stylish and secure roofing solution.
Consider Metal Roofing Materials
Different metals offer distinct attributes that can influence the performance and appearance of your metal roofing system:
Steel is a common roofing material due to its affordability and durability. It can be coated with a variety of finishes, including galvanized, galvalume, and painted coatings, to improve its weather resistance and aesthetics.
Aluminum is lightweight, resistant to corrosion, and suitable for coastal or humid regions. It is an excellent choice for properties in search of a long-lasting and low-maintenance metal roofing system.
Copper is renowned for its natural attractiveness and patina that forms over time. It is highly durable and, with proper maintenance, can last for generations, making it a premium option for opulent properties.
Zinc roofing is renowned for its self-healing qualities, whereby dents and flaws are repaired naturally over time. Like copper, zinc develops an appealing patina that imparts a distinct appearance.
Evaluate Roofing System Accessories
Apart from the metal roofing material itself, consider the roofing system accessories that enhance the performance and longevity of your metal roof:
A high-quality underlayment protects against water infiltration and enhances the metal roofing system's overall weather resistance.
Flashing is essential for preventing water from accessing vulnerable areas by sealing roof penetrations such as chimneys, vents, and skylights.
Fasteners Choose fasteners compatible with the metal roofing system you selected. Concealed fasteners are preferred for standing seam roofs due to their clear and sleek appearance.
Professional Installation and Warranty
Choosing the appropriate metal roofing system is only half the equation; professional installation is also essential. Work with reputable roofing contractors with experience installing metal roofs to ensure proper installation and avoid future problems. Additionally, you should inquire about the manufacturer's warranty. A comprehensive warranty can provide assurance and safeguard against manufacturing defects.
Conclusion
Choosing the appropriate metal roofing system requires careful consideration of your property's requirements, the available varieties of metal roofs, the roofing material, and the roofing system accessories. By evaluating your climate conditions, energy efficiency objectives, and long-term goals, you can make an informed decision that will provide a durable and dependable roofing solution for your home.
Roofing systems made of metal offer unmatched durability, longevity, and energy efficiency. Whether you choose a standing seam roof, metal shingles, corrugated panels, or metal tiles, a properly selected metal roofing system can improve the aesthetic appeal and overall value of your home. Engage professional roofing contractors with experience installing metal roofs and inquire about the manufacturer's warranty to ensure a successful and durable installation.
With the appropriate metal roofing system, you can have peace of mind knowing that your property is well-protected by an enduring roofing solution.