Indian Newspaper: EVFTA will affect India's competitiveness with Vietnam
01/07/2020
Financial Express reported: Indian exporters are seriously affected by the pandemic, especially in labor-intensive sectors. But it does not stop there, in the future, their revenue is expected to drop even more, because India's key competitor, Vietnam, has successfully signed EVFTA.
This agreement will make the competition among Asian countries for EU market more and more intense. This is a large market for a wide range of products such as garments, footwear, maritime, plastics, rubber, leather and coffee. More importantly, after EVFTA comes into effect, 71% of Vietnamese goods exported to the EU and 65% of EU goods exported to Vietnam will be exempt from tax. Up to 99% of the remaining tariffs will be removed by Vietnam within 10 years and EU within 7 years. Meanwhile, India's supply will continue to be taxed.
Moreover, trade analysts also anticipate a jump in investment from China and other countries into Vietnam to take advantage of duty-free access to the EU market. That is said to be the damage of the Indian side. According to a report by Nomura last year, up to 26/56 companies moved out of China between April 2018 and August 2019, arrived in Vietnam.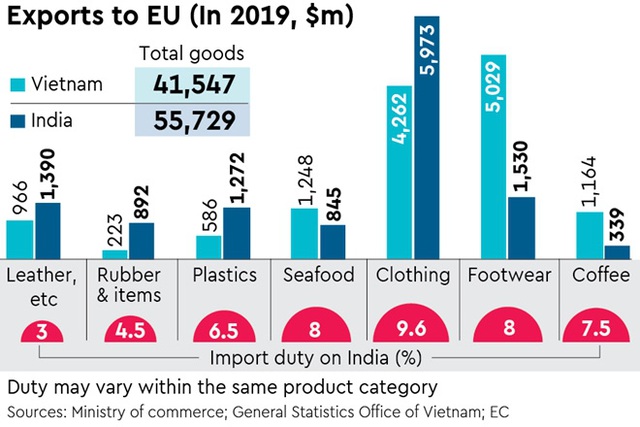 The EU, India's second largest export destination, accounts for about 17% of total shipments going abroad. However, in a labor-intensive field such as garments, their market share (including the UK) is often at 30%.
Analysts have warned, not to mention that the absorption of capital from China and India will first need to face challenges to maintain its market share in other labor-intensive exports. together. .
Of course, the number of Indian goods sold to the EU is much more diverse than that of Vietnam, which will somewhat ease the situation. However, trade agreements often allow countries to expand their product portfolio, India should not be complacent.
But anyway, for India, the EU is still a low-tax destination, with zero or minimum import duties on some key products, including mobile phones, iron and steel, and furniture. and cashews..
In addition, under the FTA, the EU eliminates tariffs on garments that have to wait up to 7 years for sensitive products and 0-3 years for less sensitive goods. This will give Indian exporters time to manage.
India's merchandise exports have decreased slightly over the same period in 2019 to US $ 324 billion, while goods to the EU decreased at a rate of over 3%.
Meanwhile, after 16 rounds of negotiations from 2007-2013, the India-EU FTA negotiations have stalled due to a disagreement over the sharp reduction of tariffs on auto parts and wine. New Delhi. However, both sides are trying to revive trade talks earlier this year when Covid-19 attacked.
Gautam Nair, managing director at Matrix Clothing, one of India's largest garment exporters, recently told Financial Express: Clear discrepancies in tariffs in the EU market could be lost. Indian goods prices in other regions, affecting India's competitiveness with Vietnam.
Mr. Raja M Shanmugham, Chairman of Tirupur Exporters Association, said that this is not a problem that can be solved quickly, but must have a long-term vision. "Promoting the garment sector, initiating structural reforms and appropriate policy interventions will be a way to move forward," he said recently. Tirupur is India's largest garment export center.
Mr. Ajay Sahai, General Director of the Federation of Indian Export Organizations (FIEO), also warned of more intense competition from Vietnam in labor-intensive manufacturing sectors. Marking a threat to its export competitiveness, the Debroy Workshop earlier said that India's logistics costs alone accounted for 15-16% of the value of the shipment.
In addition, as pointed out in an earlier HSBC report, India's internal problems account for half (50%) of the reason for the recent decline in exports in general. The next reason is the decline of the world economy, accounting for 33% of the causes, while the exchange rate only accounts for 17% of the impact.
Sign up to download the profile
Complete your information in the form below